Selecting a Quality Program for Your Child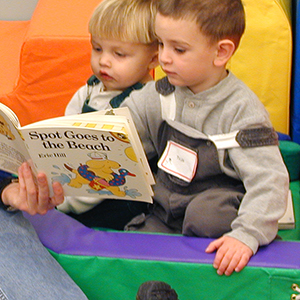 Quality early care and education incorporates the individual needs of the child with the complete needs of the classroom. It considers many aspects of care; the family unit, the health and safety of each child, the educative curriculum programs, the staff qualifications and continuing education, and the community needs. Many experts agree that quality care includes the following:
Licensing vs. Accreditation
National accreditation systems have set professional standards for early childhood education programs, allowing families to find high-quality programs for their children. State licensing bureaus provide oversight for basic health and safety standards and are different from state to state.
Affection and Attention
Does the provider or child care staff show concern for your child as an individual as well as an important member of the group? Do they talk and listen on his or her level? Are they warm, comforting and approachable? Do they have the energy and focus to meet the needs of a young child throughout the day?
Group Size
In small groups, children thrive. Ratio is important, especially for very young children. Experts recommend:
Family Childcare
1 adult to 5-7 children (no more that 2 infants)
Child Care Centers
1 adult to 3-4 infants or toddlers (under 2)
1 adult to 5-7 two year olds
1 adult to 8-10 three year olds
1 adult to 8-10 four year olds
1 adult to 8-10 five year olds
1 adult to 10-12 school-age children
*Utah licensing regulations currently exceed the quality suggestions
Developmental Growth
Early childhood education should address the whole child. Daily opportunities for development in the following areas should be provided by the program; social, emotional, creative, cognitive, motor, and language. Outdoor play should be part of the daily schedule.
Education and Training of Provider/Staff
Early Childhood certified directors should be responsible for curriculum development and on-going staff training. Ask if the lead staff have degrees in child development, education in a related field or have experience working with children in a child care setting.
Low Staff Turnover
Because children bond with their providers and develop trusting relationships, low turnover fosters a secure environment and stable development for children. Find out how long the teacher has been with the center or how long the individual has been a family care provider.
Parent Provider Communication
School and home must maintain channels of communication in order to assure the health and total development of the child. A parent handbook should be available and explain the providers' policies and procedures. There should be an open door policy, welcoming parents or guardians to visit at any time without an appointment.
A Healthy Environment
The program setting should be clean, safe, uncluttered and feel inviting. Do caregivers/teachers seem to enjoy talking to and playing with the children? Separate areas for eating, diapering, resting, and playing should be designated. Programs should be in compliance with state health and child care regulations. Emergency procedures should be posted and understood by all.
We recommend that you make an on-site visit to any provider that you are considering. Use the Child Care Checklist as a guide in this process.