Parent Night Out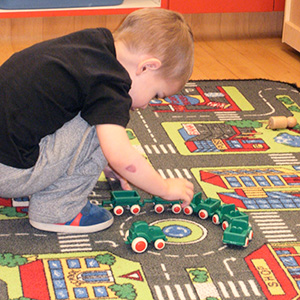 One Saturday each month, quality child care is provided for children of students, staff* and faculty* at the –UKids – East Village in the University Student Apartments East Village or –UKids – Presidents Circle Program in the Alfred Emery Building off President's Circle. Children must be comfortable in group play situations to attend. The program usually runs from 5:30 p.m. to 9:00 p.m. (see exceptions below). The program is free for students*.
Teachers from the UKids – Child Care Programs plan an evening of fun, developmentally appropriate activities for children ages two through seven years of age. Currently enrolled infants and toddlers are welcome.. It is important that children have their dinner before they arrive. A light snack is served around 7:30 p.m.
*If program doesn't fill with student's children, then unfilled slots will be open to faculty and staff currently enrolled in the programs at the rate of $30 for one child and an additional $10 for each additional child. Currently enrolled community families will be accepted for unfilled slots at their current hourly rate.
Fall Semester 2020
Due to COVID-19, PNO is canceled for Fall Semester 2020. Check back in January!
Registration will open two weeks prior to the event date and close at 5:00 pm the day before the event.
For more information contact Center for Child Care and Family Resources at 801-585-5897 or email childcare@sa.utah.edu.