Campus Child Care Programs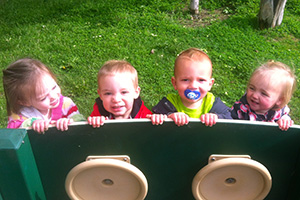 Note: All University child care programs include preschool. All preschool programs do not offer child care.
UKids - Presidents Circle Student Child Care Program, is committed to providing quality early education options for the children of student families. The center maintains a welcoming and supportive environment with staff that attends to the developmental well-being of each child. An atmosphere of trust that encourages a child's natural curiosity and desire to learn forms the basis of our curriculum. We encourage parent involvement in all aspects of our program.
BioKids provides a nurturing environment where children are encouraged to develop into caring, self-sufficient individuals. BioKids is a play-based program where children's individuality is honored; we believe that children learn skills and social consciousness through play. Our classrooms provide developmentally appropriate activities where each child can feel safe, challenged and valued. We expect and encourage children to respect each other and the world in which we live.
Our primary mission is to provide quality care to children in a safe, healthy, and nurturing environment. We provide a happy environment with a pleasant and comfortable atmosphere where children can build trust with the adults who care for them. They feel secure in the knowledge that they are loved and wanted, and they receive the appreciation, respect, and acceptance they need.
UKids-Guardsman Way caters primarily to the employees and students of the University. Our full-day private kindergarten, however, is open to other community members, when space is available. We feature an exciting curriculum where children can explore all aspects of their lives in a nurturing positive way. With the Creative Curriculum and Teaching Strategies GOLD, children grow physically, intellectually, emotionally and socially using play as the primary means of discovery and exploration. We place health and safety as our top priority, followed closely by education and learning. We are nationally accredited with NAEYC and the majority of our teachers have degrees in early childhood education.
Club U is the premier summer day camp for kids in Salt Lake City. During the eleven weeks of summer camp fun, campers will see the University of Utah in a way that only Club U insiders get to experience. The kids will explore the beautiful Wasatch Front and discover what the wilderness has to offer. Best of all, campers will make new friends while doing activities that are unique and exciting! Sign up for all eleven weeks, or for a few of your favorites. One thing is for sure, it's going to be awesome!