Types of Care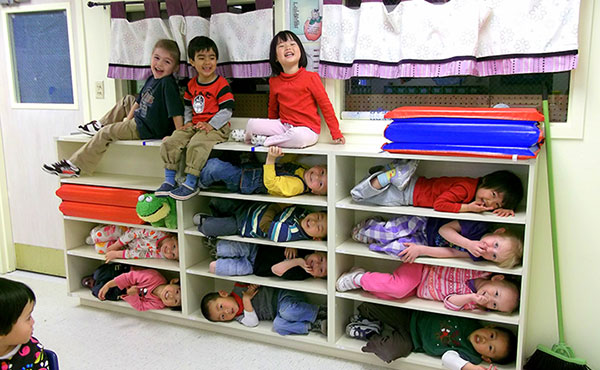 There are several child care settings that are available to you. You'll be better prepared to observe and select the child care provider and learning environment that best meet the needs of your child and family if you are familiar with the care settings available.
Note: All University child care programs include preschool. All preschool programs do not offer child care.
The types of child care settings you can
choose from include:
Family Child Care Homes
Licensed Family Providers may care for up to eight children (including their own children under the age of 4) in a private residential setting. Only two children in this setting may be under the age of 24 months. A Family Home Provider who cares for a total of six children may care for three infants. Providers are required to meet health and safety standards set by the Bureau of Child Development, Child Care Licensing.
Family Group Home
Similar to Family Child Care Homes, Family Group Homes are operated by two providers who care for 8 to 16 children (including their own children under the age of 4) in a residential setting. Because of the larger group size, providers usually have made special accommodations in their home to create a safe and healthy educational environment. Family Group Homes are licensed by the Bureau of Child Development, Child Care Licensing and required to meet health and safety standards.
Residential Certificate Homes
Child care is provided in a private home for up to eight children. This can include up to (but not more than) two children under the age of two. Providers must meet many of the same requirements as a provider licensed by the Bureau of Child Development, Child Care Licensing but do not receive as much early childhood training as other programs.
Center Based Care
Child Care Centers are larger settings where children are cared for in a group away from their homes for all or part of the day. The many different kinds of Center-based care include; preschools, parent cooperatives, profit, non-profit and church based. Some centers care for infants and toddlers while some do not. Many Child Care Centers have an organized program of activities to help children grow in each developmental area; others are organized more informally.
In-Home Care or Nanny
A child care provider comes to your home on a regular basis to care for your children. A live-in or live-out provider resides in your home full or part-time with set hours available to you for child care. Parents can recruit providers on their own or go through a nanny agency which offers a finding service. Nannies are not state-licensed or regulated, but can provide a unique advantage. Nannies may provide a more individualized attention to your children and may become part of the family.
Shared Care
Shared Care is an arrangement in which you share cost for the hiring of an in-home caregiver with another family. The provider often divides time between residents. This type of care is exempt from licensing.
Before and After School Programs
Before and after-school programs care for school-age children before or after school hours or when schools are on break. Programs can be found in a variety of settings including child care centers, family child care homes, public schools and community centers. School-age programs must comply with state standards related to this age group.
Head Start
Head Start programs offer developmental enrichment preschool classes for children ages 2 through 5. It is funded through state and federal monies and is free to income-eligible families.
Preschool Programs
Preschool is a part of all child care, but not all preschools offer childcare. Preschool only programs may be found in residential and non-residential settings. They typically operate for 2 to 4 hours per day, often offering morning and afternoon sessions. They provide early learning experiences and opportunities to socialize with peers. They are not monitored by any state agency.
Legally Exempt Child Care
Legally exempt child care is care that is exempt from licensing rules and regulations by the state because:
They care for fewer children than set forth by state child care standards.
They operate for less than four hours a day.
They are operated by a religious or educationally exempt entity.
---
Please note that Center for Child Care and Family Resources cannot recommend or place children in any licensed child care program. All providers and centers should be screened carefully. As we do not visit or license any program, we also do not endorse one program over another. It is the responsibility of parents to make the final decision on which program is best for their child and family.