WIC Workshop
Learn more about the services WIC provides for women, infants and children up to age 5 and schedule an appointment with a WIC representative. Children are welcome to attend this workshop with you.
Cost: Free
Date: March 7, 2020 (Saturday) Workshop is being rescheduled and new date will be posted soon. We apologize for any inconvenience.
Time:
Place:
Additional Workshops and Events (advance registration may be required as stated below)
Please make sure to fill out a CCAMPIS Workshop Form before you attend a workshop other than one hosted by the Center for Child Care and Family Resources (above). Please politely ask the presenter/host for their signature after the workshop.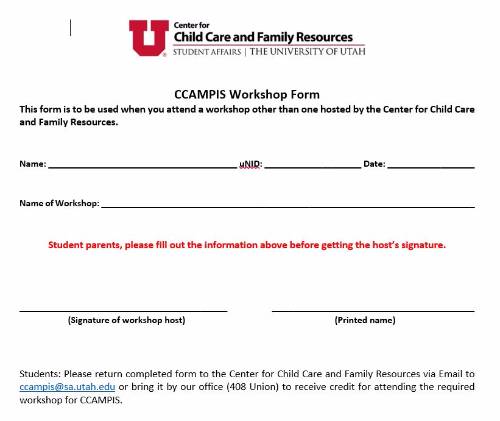 Email ccampis@sa.utah.edu with questions.
Financial Wellness Center Workshops (formerly known as Personal Money Management Center)
For additional information on upcoming workshops, visit the Financial Wellness Center website.
Traveling For Cheap - Thursday, 1/23/20 at 12:15pm;

Spencer Fox Eccles BGusiness Building (SFEBB), Child Hall (7th floor)

How to Win the Credit Card Game - Thursday, 2/20/20 at 12:15pm;

Union Panorama East

Thirsty for Business Ownership? - Tuesday, 3/17/20 at 12:15pm; Union Panorama East
Undergraduate Research Education Series
https://our.utah.edu/events/ures/ - They offer a lot of different workshops on different topics.
University of Utah Learning Center
Learning Center - The Learnding Success Center offers presentations and individual study consultations. Please contact them to set up a date and time.
Woman's Resource Center
Woman's Resource Center - Watch for new events