CPR and First Aid Training
Come gain the knowledge to potentially save a life of those in your care. This three-hour class includes basic training in CPR for infants, children and adults. It also includes training in emergency first aid. Come join us in our effort to achieve high quality child care communities by attending this important training.
Cost: $40 per person
Date: August 17, 2019 (Saturday)
Time: 9:00 am until 12:00 pm
Place: James Fletcher Building, Room 102
WIC Workshop
Learn more about the services WIC provides for women, infants and children up to age 5 and schedule an appointment with a WIC representative. Children are welcome to attend this workshop with you. This workshop is subject to change/reschedule/cancellation depending upon the time of the athletic scheduled this same day.
Cost: Free
Date: Saturday, March 23, 2019
Time: 10:00 am
Place: Marriott Library, room 1140
Real Life Personal Finance Seminar
Financial Boot camp for young adults
Date: Tuesday, March 26th
Time: 7:00pm - 9:00pm
Place: West Community Center
Date: Wednesday, March 27th
Time: 7:00pm - 9:00pm
Place: East Community Center
Additional Workshops and Events (advance registration may be required as stated below)
Please make sure to fill out a CCAMPIS Workshop Form before you attend a workshop other than one hosted by the Center for Child Care and Family Resources (above). Please politely ask the presenter/host for their signature after the workshop.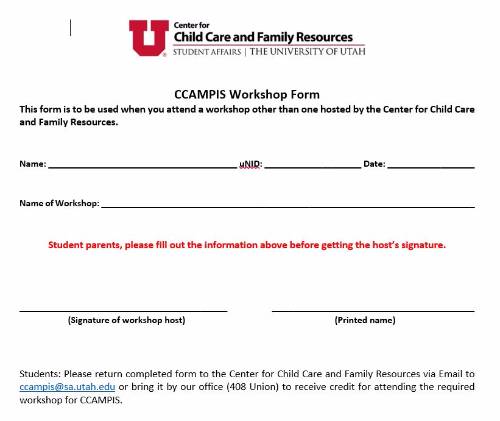 Email ccampis@sa.utah.edu with questions.
Understanding Credit Seminar
Come learn more about how credit works, how to improve your credit score and much more!
Date: Tuesday, April 9th at 12:00
Time: 12:00pm
Place: Panorama East in the Union Building (4th floor)
Personal Money Management Workshops
For additional information on upcoming workshops, visit the Personal Money Management Center website.
What You Need to Know About Starting a Business - Tuesday, 3/19/19 at 2:00pm;

Union Panorama East

Start Smart Salary Negotiation for Women - Thursday, 4/11/19 at 12:15pm;

Union Panorama East
University of Utah Learning Success Center
Learning Success Center - Student Survival Skills Workshops offered. Visit their website for dates and times.
Bystander Intervention (students only)
Thursday, February 21, 2019, 5 - 6:30 pm; 312 Union
Tuesday, March 5, 2019, 1 – 3 pm; 312 Union
Bystander intervention training empowers students to intervene in (and prevent) potentially harmful situations. Stepping in to assist another person that is experiencing harm or abuse is an important part of helping and supporting people in our community. Standing up to de-escalate violence can be difficult but each student at the U plays a valuable role in making our campus a safer place.
Woman's Resource Center
Woman's Resource Center - Watch for new events